We wanted to take some time to show you How to Setup Google+ Brand Page for Your WordPress Site. Since we have many WordPress sites, doing a setup of Google+ Business Pages for your WordPress site is something we wanted to show you now. Getting your WordPress site out on Google+ Pages, can be important.
On November 7th, 2011 Google+ announced Google+ Pages for Brands and Businesses are finally online. As it looks, there are thousands of branded pages popping up on Google+ with many brands and businesses setting up their Google Plus Pages. Currently, Google+ does not offer the ability to have "vanity urls" so you will have to just hold off on that for now. Here is our Google+ Url: https://plus.google.com/u/0/b/112859378018893254813/ so make sure you add us to your circles.
Google+ for Business Marketing, wanted to take the time to give you a step by step tutorial on how to setup your Google Plus Brand Page for your WordPress Site.
How to Setup Google+ Brand Page for Your WordPress Site:
Step 1 (Getting Started)

:
To get started, you will need to be logged into your Google Account. If you don't have one, get one here.
Go to Google+ Business. You'll find a nice multimedia nifty video that you can watch with some info.
Step 2 (Pick a Category)

:
Select a category that best fits your page, business or company. The categories are as follows:
Local Business or Place (storefronts, stores, restaurants, places,or services)
Product or Brand (electronics, brand names, or individual products)
Company, Institution, or Organization (companies, institutions, organizations, non-profit organizations)
Arts, Entertainments or Sports (films, TV, music, books, sports, shows)
Other (if your business doesn't fit into another category, use this category)
Step 3: Add Your Information
Entering your business or brand name and website.
Select an additional category that best suits your business.
The sub-categories will change if you choose a different main category.
Select who can view your Google+ profile. The default is any Google user, or you can restrict this to 18 and older or 21 and older.
Step 4. Add your Tag Line and your Photo
Add photo (this could be your company logo)
Tagline: Summarize your business in 10 words or less
Great Step here! Google offers you the ability to tell your personal Google+ circles about your new business page.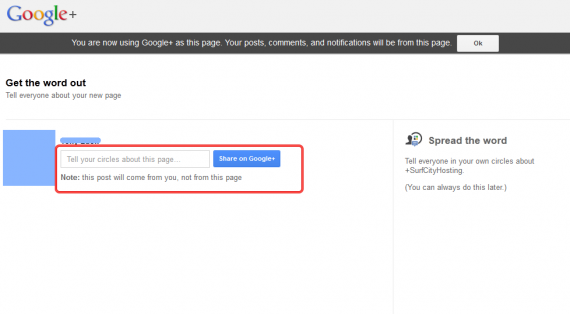 Finished Google+ Business Page(Example):
Here's your Google+ Branded Business Page!
Extra Steps: Edit your Profile
To further customization, you can edit your profile